When Anchor Brewing started tweeting back on November 21st, it was just a small sign of bigger things to come.  Yesterday they flipped the switch on a new website with a more modern flair. The previous version was outdated, appeared tired, and clearly wasn't suitable for such a venerated and pioneering craft brewer. Now visitors will enjoy a more streamlined experience, gorgeous photos, informative videos, will easily find event news and have quick access to social media accounts.
From the outside not much has changed at the brewery since Fritz Maytag sold the company to Keith Greggor and Tony Foglio back in the spring of 2010. Could this be the beginning of more widespread change in 2012? Time will tell.
Below is a brief tour, but you should go experience it for yourself.
Most of the site functions like a large scrolling slide show. The brewery section, featured above, walks visitors through the Anchor facility, brewing process and ingredient selection.
Each Anchor beer also has it's own page containing a description, historical background and the beer's vital statistics. The crowning achievement for these pages, and maybe the whole site, are the short videos about each beer. They're highly polished, informative, playful and feature the brewing crew who provide explanations and historical tidbits. The best video on the site is the closest thing to a TV commercial the brewery has ever produced. It could easily fit into a long spot between innings of a Giants game.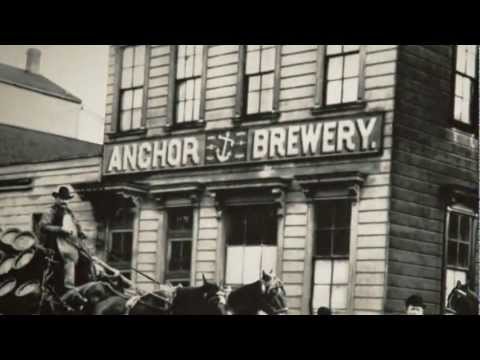 A few other interesting things you can find on the site include a legend to the codes that appear on the bottles, news about events and an online store to buy Anchor gear. The latter section still utilizes the old sites look and feel, but that will likely change in the future. What won't you find on the site? A blog.
Overall, the upgrade was a massive improvement over the old website. Anchor finally has an online presence that's on par with it's competition.